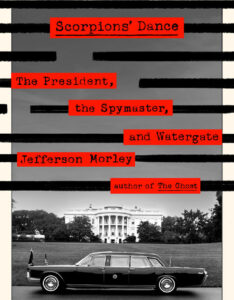 For the 50th anniversary of the Watergate break-in: The untold story of President Richard Nixon, CIA Director Richard Helms, and their volatile shared secrets that ended a presidency.

Scorpions' Dance by intelligence expert and investigative journalist Jefferson Morley reveals the Watergate scandal in a completely new light: as the culmination of a concealed, deadly power struggle between President Richard Nixon and CIA Director Richard Helms.
Nixon and Helms went back decades; both were 1950s Cold Warriors, and both knew secrets about the disastrous Bay of Pigs invasion of Cuba as well as off-the-books American government and CIA plots to remove Fidel Castro and other leaders in Latin America. Both had enough information on each other to ruin their careers.
After the Watergate burglary on June 17, 1972, Nixon was desperate to shut down the FBI's investigation. He sought Helms' support and asked that the CIA intervene―knowing that most of the Watergate burglars were retired CIA agents, contractors, or long-term assets with deep knowledge of the Agency's most sensitive secrets. The two now circled each other like scorpions, defending themselves with the threat of lethal attack. The loser would resign his office in disgrace; the winner, however, would face consequences for the secrets he had kept.
Rigorously researched and dramatically told, Scorpions' Dance uses long-neglected evidence to reveal a new perspective on one of America's most notorious presidential scandals.
Editorial Reviews
Review
"In this, his third biography of a senior CIA official, Jefferson Morley's pen is sharp as a surgeon's scalpel, his prose honed by years of sifting through information citizens were never meant to see. He gives us hidden history."
—Anthony Summers, author of The Arrogance of Power and Pulitzer Prize finalist for The Eleventh Day

"Just when you think you've read everything there is to read about Watergate, along comes another analysis seen through a different lens. This is particularly true of Jefferson Morley's new book Scorpions' Dance: The President, the Spymaster, and Watergate. Mr. Morley's lens is the relationship between President Nixon and Richard Helms, CIA Director through all but a few months of the Nixon presidency and it reveals a number of unexploded hand grenades previously undiscovered. The central issue is whether these two men enabled each other. No doubt, there is still more to be learned."
–Gary Hart, United States Senator (Ret.)
"No historian today understands the Cold War White House better than Jefferson Morley. His decades of research into the Kennedy assassination, the intelligence agencies, and national security policy-making in the Vietnam era make him especially well equipped to untangle the complex of narratives, overlapping and conflicting, that comprise the Watergate scandal. Plumbing archival documents and other new evidence, Morley brings sensitivity and probity to his examination of the ill-fated Nixon-Helms relationship, and thereby makes Scorpions' Dance a must read for students of those tumultuous times."
–James Rosen, Newsmax chief White House correspondent and author of The Strong Man: John Mitchell and the Secrets of Watergate

"Jefferson Morley has written a fascinating account of the relationship between President Nixon and CIA Director Richard Helms. The book enriches our perspectives on Watergate while explaining how these two towering American Machiavelli's aided each other's corrupt ventures, to their own downfall and the disgrace of the high offices they held. It's a warning to the governing elite in any era."
–Larry J. Sabato, author of The Kennedy Half-Century and A More Perfect Constitution

"Jefferson Morley's taut, descriptive prose transports us back in time to relive the momentous events of the 1960s and 1970s, entering the minds of the colorful characters who shaped history to feel what they felt and to reimagine for ourselves the decisions they made and why. His purpose is evident in his open-minded yet relentless pursuit of the truth about the corrosive impact of intelligence covert action on individuals and organizations, and on democracy itself―and to reflect on the consequences of sacrificing truth for the sake of power."
–Rolf Mowatt-Larssen, former CIA operations officer and senior fellow at the Belfer Center for Science and International Affairs
"Jefferson Morley has captured, in all its surreal conspiratorial glory, the last sinister tango of a pair of wicked Richards. A riveting story that will make you chuckle and shiver."
— John Aloysius Farrell, author of Richard Nixon: The Life
"A work that sheds new light on Watergate half a century after the fact."
— Kirkus

"Eye-opening…Packed with lucid analyses of complex geopolitical events, this is a vital reconsideration of recent American history."
—Publishers Weekly
"Thoroughly researched…With a complex cast of characters, Cold War espionage, and tense courtroom drama, Morley's timely book will appeal to readers seeking an in-depth understanding of both Watergate and CIA history."
—Library Journal
"Morley (The Ghost: The Secret Life of CIA Spymaster James Jesus Angleton, 2017) shares more of his insights into the role of the CIA in America's recent history….The centrality of Nixon and Helms to so many pivotal moments in history makes Morley's revelations about their sparring even more intriguing." ―Booklist
"Morley adds rich context to Helms's half-truth, offering new and fascinating details to what he calls a decades-long 'clandestine collaborative' relationship between [Helms and Nixon] … Scorpions' Dance thoughtfully explores the relationship of the presidency to the intelligence community." —SpyTalk
About the Author
JEFFERSON MORLEY
is a journalist and editor who has worked in Washington journalism for over thirty years, fifteen of which were spent as an editor and reporter at
The Washington Post.
The author of
Our Man in Mexico,
a biography of the CIA's Mexico City station chief Winston Scott, Morley has written about intelligence, military, and political subjects for
Salon, The Atlantic,
and
The Intercept,
among others. He is the editor of
JFK Facts
, a blog. He lives in Washington, DC.