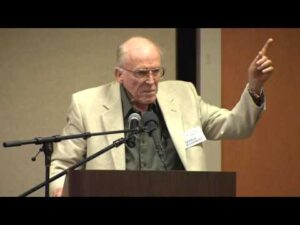 31 January, 2021|Alan Dale
Professor Gerald D. McKnight, author of Breach of Trust: How the Warren Commission Failed the Nation and Why, has died at a Health Center/Retirement Home in Lawrence, Kansas. Professor McKnight was a Korean War veteran serving in Graves Registration, a career educator, a distinguished researcher and author, and a close associate of the prolific litigator and JFK assassination scholar, the late Harold Weisberg. Professor McKnight was an influential teacher and historian, an exceptional person whose friendship, generosity, and depth of understanding was a gift to all who knew him.
Gerald D. McKnight was emeritus professor of history at Hood College, where he had served as chair of the History and Political Science Department.
Professor McKnight quoted for an interview in September, 2005:
I think there are several telltale evasions: 1) The WC's failure to launch a real investigation into Oswald's Mexico City trip. This, I believe, is a key to what forces or interests were behind the murder of JFK. 2) The destruction of JFK autopsy materials and the writing of a second autopsy protocol after it was learned that Oswald was murdered—in short, the fabrication of the JFK autopsy protocol. 3) Lastly, the fact that the FBI and the WC had the Atomic Energy Committee (AEC) run sophisticated Neutron Activation Analysis (NAA) on Oswald's paraffin casts and other forensic materials and then failed to include those results in the final Commission Report. The fact that some of the best evidence in the case was never disclosed in the Warren Report leads to one inexorable conclusion: that results exonerated Oswald.
Some people, especially those born after the assassination, seem to think this is "old news." How do you explain to them that the unanswered questions surrounding that event are still incredibly relevant more than 40 years later?
A president is assassinated—there can be no more de-stabilizing crime in our system of government—and there is no good-faith effort to uncover the facts. What does this say about the legitimacy of our government? Moreover, once JFK was removed, there followed possibly history-altering changes in our foreign policy. Had Kennedy lived, would he have liquidated our involvement in Vietnam? Many credible historians speculate that he would have ended our involvement by the end of 1964. Kennedy's tentative steps toward a rapprochement with Castro's Cuba ended with Dallas. Once LBJ heated up our Vietnam involvement, the Soviet-American detente growing out of the peacefully resolved 1962 Cuban Missile Crisis was terminated. This raises the foreboding question: Was JFK's assassination a coup d'etat?
Professor McKnight is the author of the books, The Last Crusade: Martin Luther King Jr., the FBI and the Poor People's Campaign (1998) and Breach of Trust: How the Warren Commission Failed the Nation and Why (2005, republished for a 2013 edition).
My JFK Conversations interview with Professor McKnight may be found here:
LISTEN to Alan Dale's 2014 conversation with Professor McKnight HERE. Duration: 01:09:17
READ a transcript of the above conversation may be read HERE.
WATCH C-Span: Professor McKnight speaking at the 2012 Mid-America Conference on History in Springfield, Missouri.