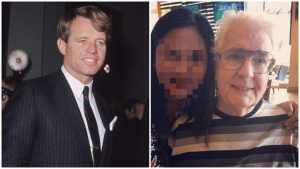 13 September, 2019|By Jessica McBride for Heavy.com
Thane Cesar is the security guard who was standing behind Robert F. Kennedy when the presidential candidate was assassinated in Los Angeles, a crime for which Sirhan Sirhan was convicted. For years, Cesar lived a relatively quiet life, building a family in the Philippines. However, just hours after Cesar died – on September 11, 2019 – Kennedy's son, Robert F. Kennedy Jr., took to Instagram to build the case that Cesar may have "murdered my father."
It's one of the most important events in American history, the assassination of a presidential brother, aspiring presidential candidate, former Attorney General and poverty crusader, who embodied the hopes of the Kennedy dynasty and more. RFK Jr. – who met with the man convicted of being his dad's assassin, Sirhan Sirhan, in prison a year ago – has publicly raised questions before about a question that some thought was already closed but researchers have been raising for years: Who killed RFK at the Ambassador Hotel in Los Angeles?
Cesar's name is not a new one to people who study the RFK assassination, but the theories in that death are not as well known as those that have taken root around the murder of his brother, President John F. Kennedy. In this case, though, you have the victim's son raising the question. (Incidentally, Sirhan Sirhan was recently stabbed in prison but survived the attack; officials said the suspect was another inmate. California prison officials have still not released the name of that inmate or the motive; asked for it by Heavy, Dana Simas, Corrections Press Secretary in that state, responded on September 9, 2019, "the incident that occurred on Friday, Aug. 30th in which an inmate was assaulted is still under investigation and has not yet been referred to the county district attorney's office." She did not release the name.)
But what is RFK Jr.'s evidence that Thane Cesar – also known as Thane Eugene Cesar – killed his dad? After all, Sirhan Sirhan was literally captured at the scene. It's not that people think Sirhan Sirhan played no role; it's that questions remain about whether there was a second gunman and whether someone else was behind the role he played. Multiple witnesses saw Thane Eugene Cesar draw his gun when Sirhan Sirhan fired toward Kennedy. You can read RFK Jr.'s full post later in this article.
Sirhan Sirhan was convicted of murdering Kennedy. He admitted it at his trial, but that was strategic because his lawyers pursued a diminished capacity argument. He's also claimed he has no memory of the assassination. Some believe he was a pawn in a bigger plot. It's clear that Sirhan Sirhan was at the scene, and probably that he opened fire (even RFK Jr. says Sirhan Sirhan was shooting toward RFK). Sirhan Sirhan was seen firing at Kennedy by multiple witnesses. He also wrote about killing RFK in journals. He wrote "RFK must die" in his diary and authorities thought that the date of the assassination tied into the "one year anniversary of the Six-Day War."
Whether he killed RFK or the candidate was felled by a second gunman's bullet is the core question. The San Francisco Chronicle, back in 2008, wrote about questions in the death, noting the fact that the coroner "reported that the fatal shot was fired less than one inch from Kennedy's head behind his right ear." Four shots came from the rear but Sirhan fired a .22 "from a few feet in front of Kennedy." The revolver held eight rounds, but "a radio reporter's tape recording of the shooting has sounds of what one audio expert describes as 13 shots" and "double shots," reported The Chronicle, summing up the main concerns.
Cesar also has defenders, most notably the author Dan Moldea, who confirmed on Facebook that Cesar has died (as did Cesar's daughter in the Philippines). He published a lengthy rebuttal of arguments that Cesar murdered Robert F. Kennedy, which you can also read later in this article.
Heavy reached out to Cesar through his daughter in the Philippines, where he lived. However, she said that he is not granting interviews anymore. That was months before he died. Several days before he died, the daughter, who is from Pasay City, Philippines, wrote the Heavy reporter that she had seen the article but did not respond to further requests for comment.
She has been posting about Cesar's death on Facebook. "I will miss you so much. Today, my heart is broken in thousand pieces. 💔 I love you daddy," Cesar's daughter wrote on September 11, 2019.
Here's what you need to know: