Courtesy of JFK Lancer and The Mary Ferrell Foundation
"George Michael was a versatile thinker who was not hesitant to explore new pathways. He had an intuitive sense of direction when it came to identifying important areas that were outside the well-worn consensus of the time. I remember him fondly."
Autumn Too Long: A Remembrance
by Charles Robert Drago
Objectivity, I am pleased to admit, is simply unimaginable when I contemplate the life and legacy of George Michael Evica.
At his insistence, George Michael became my indispensable friend, mentor, spiritual guide, and, all too soon, my spirit guide.  From the day we met in the '90s at the First Research Conference of "The Third Decade", beloved Professor Jerry Rose's JFK assassination scholarly journal published at the State University of New York, Fredonia, he and his beautiful, brilliant wife Alycia welcomed me into the heart of their family.  I returned the favor.  For the rest of their earthly lives, we were inseparable.  And so we remain today.
I cannot begin to thank my friend and colleague Alan Dale for editing and bringing to electronic print this far from complete yet marvelously representative collection of George Michael's research papers.  Allow me to quote briefly from them here.
George Michael is (I write and speak of him in the present tense; he is with us not just in spirit, but as spirit) a polymath of the highest order.  Among his areas of expertise which he shared in the classroom as well as on the printed paged are Myth and Ritual in Literature, Genre Studies in Literature, Literary Criticism, Consciousness Development and the Symbolic Process, Linguistics, Film Studies, Creative Writing, Investigative Reporting, and Investigative History. He also pursued Advanced Studies in Linguistics and Anthropology at Columbia University (1957-1960) and Advanced Studies in Myth and Literature at Hartford Seminary Foundation (1971-73).  All of these disciplines inform his JFK-related endeavors, in the aggregate a furious storm of influences unmatched before or since.
It is all but forgotten that George Michael organized and hosted the first national conference on the JFK Assassination in October, 1975, at the University of Hartford.  Jim Garrison participated and made certain to celebrate him for his incomparable work.
My stupefaction and, to be blunt, outrage that, among a significant majority of serious (self-styled and otherwise) JFK assassination researchers, George Michael's Kennedy-related literary oeuvre remains neglected, minimally understood, and in some instances unknown, cannot be overstated.  The abandonment of this accumulated institutional knowledge has resulted in inferior duplication of effort that contribute mightily to the delay and to date denial of justice for the murdered president and the countless millions who make up the collateral damage of the Dealey Plaza attack.
What then of justice? Have we any reason to expect the guilty to be punished, the disease to be eradicated? The novelist Jim Harrison: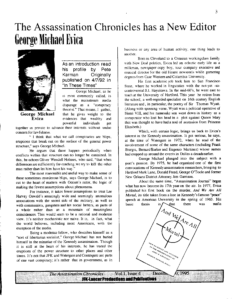 "People finally don't have much affection for questions, especially one so leprous as the apparent lack of a fair system of rewards and punishments on earth … We would like to think that the whole starry universe would curdle … the conjunctions of Orion twisted askew, the arms of the Southern Cross drooping. Of course not; immutable is immutable and everyone in his own private manner dashes his brains against the long suffering question that is so luminously obvious. Even gods aren't exempt; note Jesus' howl of despair as he stepped rather tentatively into eternity."
In "A Certain Arrogance," George Michael's final book length assassination study, he presents compelling arguments to support the conclusion that the conspiracy that took JFK's life was supra-national in origin and execution.  He summarized his revelation thusly: it was facilitated, he declared, by "a treasonous cabal of hard-line American and Soviet intelligence agents whose masters were above Cold War differences."
I closed my Introduction to "A Certain Arrogance" with the following meditation:
November is a cruel month, and one that figures all too prominently in the life and times of George Michael Evica.
It was on a brilliant, unnaturally warm November morning in 2007 that loved ones laid to rest my friend and mentor, my confidante and comrade-in-arms, my spiritual guide and now my spirit guide.
As I carried the incongruously small urn that contained his physical remains, my thoughts drifted to another November day, when George Michael and I had found ourselves in Dealey Plaza at dusk, far from the madding crowd.  Light was filtered thinly through brittle leaves and sorrow.  And I asked if he too sensed the presence of unquiet spirits.
As usual, George Michael was years ahead of me.  He said that he had experienced the same feelings on many occasions in that place.  He spoke at length, his voice subdued yet redolent with conviction, about his certainty that the fight against the forces that struck John Fitzgerald Kennedy, the same forces that today prowl the killing fields of the Middle East and Africa and Asia and the Americas, endures into the next world.
The calm of Saint John's churchyard where he rests represents but a temporary respite.
I am drawn to the words of novelist James Lee Burke, who showed us that he understands this immutable truth when he wrote the following ruminative passage for his fictional Cajun detective Dave Robicheaux:
"Down the canyon, smoke from meat fires drifted through the cedar and mesquite trees, and if I squinted my eyes in the sun's setting, I could almost pretend that Spanish soldiers in silver chest armor and bladed helmets or a long-dead race of hunters were encamped on those hillsides.  Or maybe even old compatriots in butternut brown wending their way in and out of history … gallant, Arthurian, their canister-ripped colors unfurled in the roiling smoke, the fatal light in their faces a reminder that the contest is never quite over, the field never quite ours."
  *   *   *   *   *   *
The Assassination Chronicles
SUMMER 1995: Vol. 1, Issue 2
This Dirty Rumor
WINTER 1995: Vol. 1, Issue 4
The Assassination Chronicles Has A New Editor
Perfect Cover: A Theory of What Happened on November 22, 1963
SPRING 1996: Vol. 2, Issue 1
Behind the Lines — Notes from the Editor
A Rifle Symposium by GME, Anthony Marsh and Martha Moyers
(And We Are All Still Mortal: Thomas Dodd and Lee Harvey Oswald)

SUMMER 1996: Vol. 2, Issue 2
Jim Garrison: In History and Film
Behind the Lines — Submission Guidelines
FALL 1996: Vol. 2, Issue 3
Behind the Lines — This Dark Direction: A Statement of Purpose
WINTER 1996: Vol. 2, Issue 4
Behind the Lines — November 22, 1963: November 22, 1996
SPRING 1997: Vol. 3, Issue 1
Behind the Lines — Questions
SUMMER 1997: Vol. 3, Issue 2
Gerald Ford's Terrible Fiction
WINTER 1997: Vol. 3, Issue 4
Behind the Lines — 1997 JFK Lancer Conference Summary and Thanks
The 81 Promises: Contexts of the Crime
SPRING 1998: Vol. 4, Issue 1
Amnesty: The Initiative's Origins
SUMMER 1998: Vol. 4, Issue 3
Evica Retires As Editor and Conference Chair
RELATED: