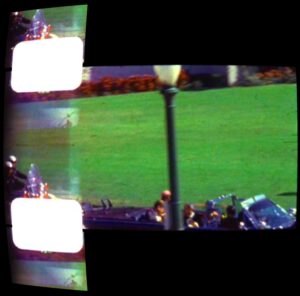 D.B. Thomas|16 September 2023
When President Kennedy was shot to death on the streets of Dallas, a motorcycle in the police escort had its radio microphone open and captured the sounds of the assassination gunfire over the police recording system. For his recent book, Last Second in Dallas, author Josiah Thompson arranged for a sound-processing expert named Richard Mullen to provide measurements on a set of audio artifacts that occur at places on the same Dallas Police recording. The results are counter to the misrepresentations about the artifacts used by the National Research Council as a pretext to declare the acoustical analysis invalid. The results likewise discredits the study by Sonalysts, the firm engaged by Larry Sabato for his otherwise inconsequential book on John F. Kennedy. The NRC panel and Sonalysts exploited these artifacts in a cynical effort to obfuscate the scientific evidence of a gunshot from the grassy knoll. What the new measurements tell us about the artifacts is explained herein. Clarification: the NRC panel claimed that the acoustical evidence was invalid on the grounds that the putative "gunshots" were not synchronous with the time of the assassination. The claim was spurious as it was contrary to the evidence then available. The new evidence contradicts the NRC claim and corroborates the acoustics. Similarly, Sonalysts asserted falsely that the motorcycle with the open microphone was not in Dealey Plaza (Fig. 1) at the time of the assassination, an assertion that was contrary to the evidence then available. The new evidence further contradicts Sonalysts claims and adds another layer of corroboration to the acoustical identification of gunfire.
   *    *    *    *
AARC Board Member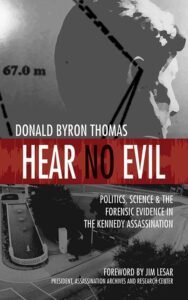 Donald B. Thomas received his Ph.D from the College of Agriculture at the University of Missouri. Following graduation, he held post-doctoral research appointments at the University of Arizona and the University of Nebraska. He is currently a senior scientist with the United States federal government and is on the graduate faculty at the University of Texas. He is a former President of the Coleopterists Society and presently serves as a subject editor for the Annals of the Entomological Society of America.
Dr. Thomas is the author or co-author of more than one hundred scientific journal articles, book chapters and books. His 2001 article in the journal Science & Justice, The Acoustical Evidence in the Kennedy Assassination Revisited led to publication of Hear no Evil, a book which places the acoustical evidence in a larger context. He currently resides in Texas with his family.