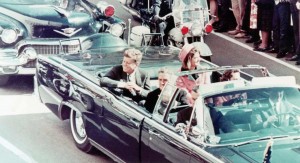 COLLEGE PARK, Md. — Shortly after the 1963 assassination of President John F. Kennedy, Chief Justice Earl Warren, who oversaw the first official inquiry, was asked by a reporter if the full record would be made public.
"Yes, there will come a time," the chairman of the Warren Commission responded. "But it might not be in your lifetime."
It will soon be in ours — that is, unless the CIA, FBI or other agencies still holding on to thousands of secret documents from a series of related probes convince the next occupant of the White House otherwise.
A special team of seven archivists and technicians with top-secret security clearances has been set up at the National Archives and Records Administration to process all or portions of 40,000 documents that constitute the final collection of known federal records that might shed light on the events surrounding JFK's murder, POLITICO has learned — files that according to law must be made public by October 2017.
"There are going to be appeals to the president, the Central Intelligence Agency for sure," predicted Malcolm Blunt, a British researcher who has spent nearly two decades poring over JFK records. "Particularly on cover issues — corporations and financial institutions, banks and business used for cover purposes."
Professor G. Robert Blakey's address to the 2014 AARC may be viewed here.
Read Dan Hardway's article, "A Cruel and Shocking Misinterpretation" here.
Bookmark our Video page for updates on the upcoming release of  presentations by Rex Bradford, Malcolm Blunt, Jefferson Morley and other distinguished investigators, historians, and scholars who appeared at our 2014 Conference.
_________________________________________________
Bryan Bender is the defense editor for POLITICO Pro. He was previously a D.C.-based reporter for the Boston Globe and Jane's Defence Weekly, where he covered U.S. military operations in the Middle East, Asia, Latin America, and the Balkans. He also writes about terrorism, the international arms trade, and government secrecy. He is author You Are Not Forgotten, the story of an Iraq War veteran's search for a missing World War II fighter pilot in the South Pacific. He is currently a board member of the Military Reporters and Editors Association.