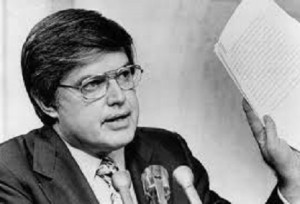 Rex Bradford|Mary Ferrell Foundation|16 May, 2016 — With the National Archives' planned 2017 release of some 3600 postponed JFK records, attention has been focused on what will be in these new releases, and also what known records will remain "missing." Important among these are currently-withheld documents of the Church Committee, the Senate committee which in the mid-1970s conducted the most wide-ranging congressional review of U.S. intelligence agencies in our nation's history, and also conducted a probe into these agencies' response after the JFK assassination.
Church Committee Documents Scheduled for Release in 2017
The documents scheduled for October 2017 release includes 26 Church Committee records currently withheld in full, listed below.
Church Committee documents, currently postponed in full, scheduled for 2017 release
157-10004-10102: ANTI-FIDEL CASTRO ACTIVITIES
157-10005-10012: REQUEST FOR ACCESS TO FBI FILES
157-10005-10102: MEMORANDUM [BARON TO FILES]
157-10008-10087: MEMORANDUM [MOSK TO RANKIN]
157-10011-10121: REPORT
157-10011-10122: MEMORANDUM FOR THE RECORD
157-10011-10123: CIA REPORT
157-10011-10155: ARTICLE PUBLISHED IN "PEOPLE AND THE PURSUIT OF TRUTH", FEB. 1976
157-10002-10002: (NO TITLE)
157-10002-10028: RAPPROCHEMENT WITH CUBA – TESTIMONY OF WILLIAM ATTWOOD
157-10002-10029: INTERVIEW WITH RICHARD BISSELL, 8/6/1975
157-10002-10030: TRANSCRIPT OF HEARING WITH RICHARD BISSELL, 7/17/1975
157-10002-10096: POLITICAL AND ECONOMIC – OPERATION MONGOOSE [HURWITCH]
157-10002-10151: INTERVIEW WITH SAM PAPICH, 8/22/1975
157-10002-10179: COMMITTEE BUSINESS RE: RELEASE OF CHURCH COMMITTEE REPORT ON ASSASS.
157-10002-10334: RESPONSE TO COMMITTEE LETTER DATED DECEMBER 18, 1975
157-10014-10004: (NO TITLE) [TRANSCRIPT: ANGLETON, JAMES, 9/12/1975]
157-10014-10006: (NO TITLE) [TRANSCRIPT: ANGLETON, JAMES; MILER, SCOTTY, 1/22/1976]
157-10014-10047: (NO TITLE) [TRANSCRIPT: 5/6/1976]
157-10014-10049: (NO TITLE) [TRANSCRIPT: 3/15/1976]
157-10014-10084: (NO TITLE) [TRANSCRIPT: 5/10/1976]
157-10014-10090: (NO TITLE) [TRANSCRIPT: 11/12/1975]
157-10014-10144: (NO TITLE)
157-10014-10145: (NO TITLE)
157-10014-10154: CLERK OF COMMITTEE CHRON JUNE 1975
157-10014-10174: FBI ON WARREN COMMISSION
The ARRB and Missing Church Committee Records
This list is unfortunately short. It appears that a number of JFK-related Church Committee records have "gone missing," perhaps permanently so. This problem was known to the Assassination Records Review Board. Master researcher Malcolm Blunt provided the MFF with pages copied from the files of ARRB staffer Ronald G. Haron; these 114 pages include memos discussing the problem of missing files, in particular interview transcripts.